In the past 2020, art has not stopped and artists have continued renewing and exploring new creations. An example is Eltono, an french artista who has participated in Palma Festival with an espectacular mural painting at Gisèle Guillemot school (Mondeville). To make this mural, called Modo nº41, have participated 52 students of this school.
Eltono has renovated the appareance of the school, giving colours and a personal seal for the building. But also he has brought Contemporany and Urban Art to education. The participation of the students in the mural makes children get involved in art they know what is art by an expert.
The mural ha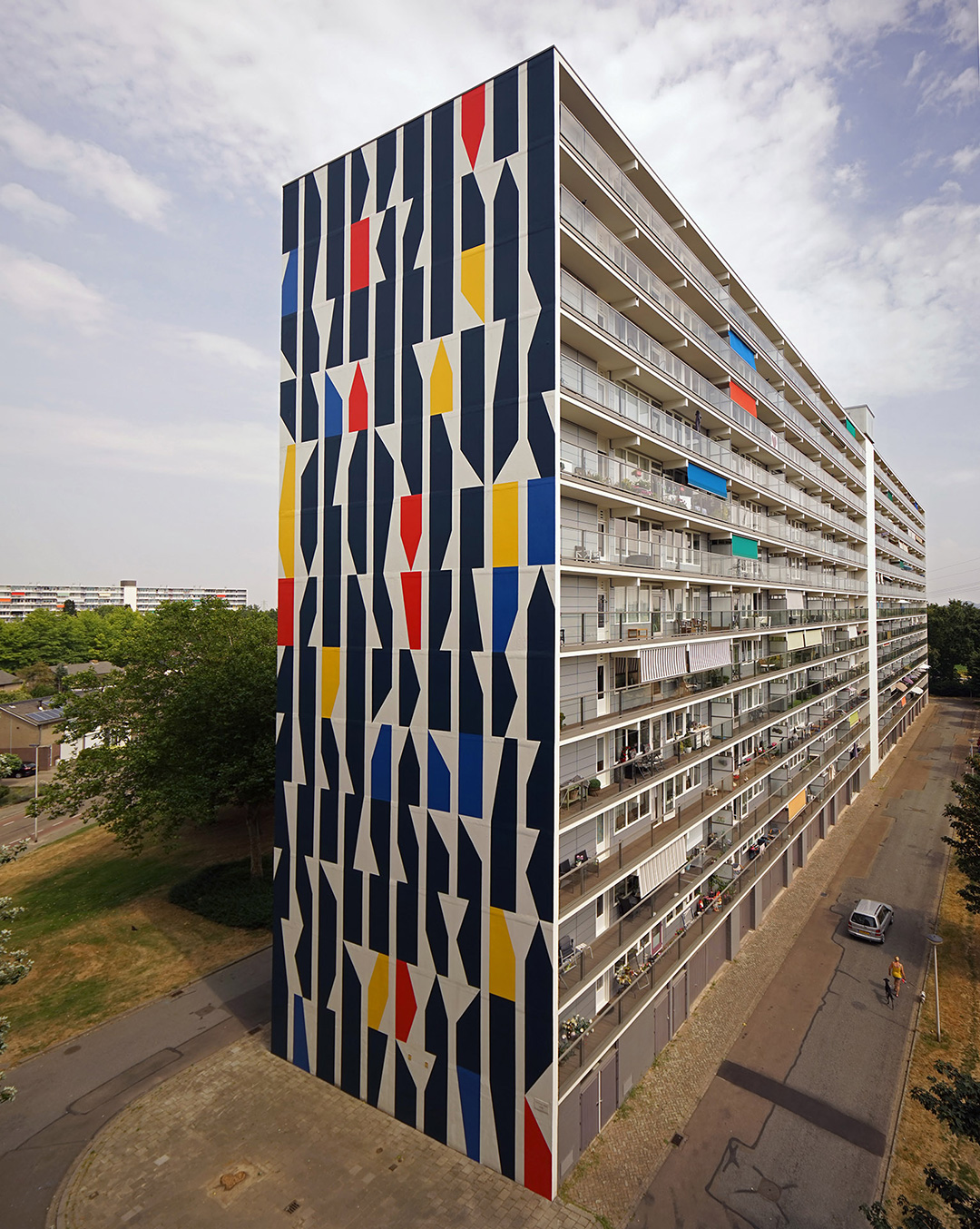 s lines and geometric figures, which is the base in the compositions of the artist. The protagonists in his paintings are line and geometry because it is what is interesting for Eltono. The colours that have been used are personal seal of the artista t
oo, because he use them  for most of his works.
This mural is not the first that Eltono makes, in fact, mural painting is one of the disciplines most treated for him. His social commitment and his knowledge and interest in reality are the engine that makes him opt for this type of art.
He has demostrated yet this commitment with murals that follow the characteristics of Modo nº 41. It is the case of Modo nº 39, in Heerlen.  The mural decorates a part of an apartments building and has 130  boxes (becase 130 apartments have the building), and the boxes were created by the people who lived here.  With this kind of projects, Eltono performs his social commitment, because he not only paints a building, he makes that people who use every day the building participate in the project.
Eltono, an artista of public space, his practice focuses on the search for suppots and languages not only for the urban context, also to reflect the experience between the artist and the city. Geometry and flat color make a personal code with a lot of symbologies close to calligraphic. The artist establishes systems exploring the limits of a defined and restricted frame, transferring the line and the plane to the expanded field. The urban fabric is reflected in static and at the same time dynamic forms, reflecting a cyclical movement.